Everest Lodge Restaurant & Bar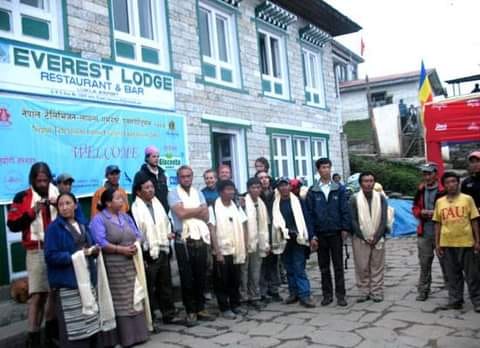 Everest Lodge is a premier trekking lodge in the lap of Himalaya, Mt. Everest Region Nepal for two decades at the elevation of 2804m in Lukla. More than thousands of climber trekkers and FIT group were shared their happiness with us on their last stay in our lodge. It is no doubt that Everest Lodge provided the superior hospitality among all the visitors to make their trek more successful and unforgettable.
A small house lodge with 04 rooms started its operation in 25 September, 1983. After a successful run and having more tourists day by day, the need was felt to enhance the hotel's size and facilities. So we bought new building to provide qualitative amenities for the visitors.
Now an extension of 12 luxurious rooms with hot and cold shower through solar power has built to supplement the existing accommodation.
Nima Nuru Sherpa and his wife Da Lamu Sherpa has been running this lodge for two decades. Nima Nuru hiself is a senior trekking guide and has good understanding of English and Japanese language. He took the cook training at Nepal Academy of Tourism and Hotel Management in 1977.Later, he has achieved an experience of cook in 3 star hotel befor he became a guide.